Hey, here is a
Amazing
Awesome
Useful
Incredible
Unbelievable
Marvelous
Surprising
Shocking
Fantastic
Monumental
Stupendous
Terrific
Astonishing
Great
Smashing
Phenomenal
Superb
Dynamite
Stunning
Impressive
Breathtaking
Wondrous
item for you just by joining DXFs.Net today.
The DXFs.Net Quotation Spreadsheet Program (BETA)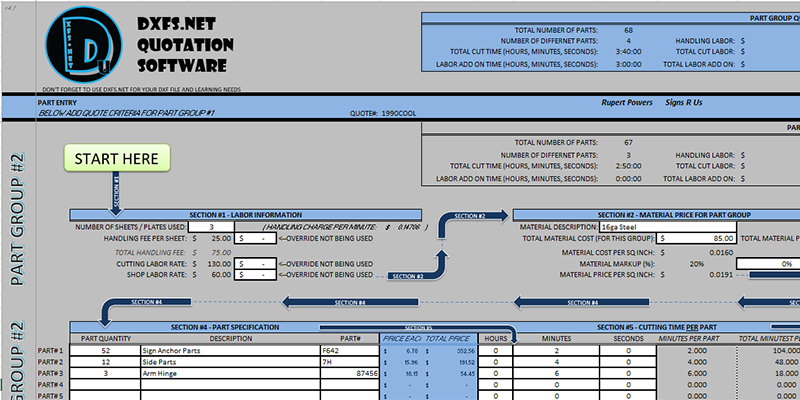 "Act Now and Join Today. This item may not be included with the membership in the near future. I really want you take advantage of this offer. I have spent years quoting and have countless hours creating a spreadsheet quotation program for you that is very robust and at the same time minimal to keep it as easy and effective as possible."
Here are some features that this software has the offer…
Honestly Do Not Miss This!
Honestly don't miss this amazing Membership add-on. Being in the BETA stage, this Item MAY NOT BE HERE FOREVER. Other software's of this caliber are so much more and with membership you not only get this, but also DXF files and video trainings. It's like a turn key business if you are just starting! The membership is at a very low price now for all that you are getting. It will not stay at this price for long I can promise you that. I cannot stress to you enough, DON'T WAIT!
ONLY $19 - (FOR A LIMITED TIME)
Don't wait I want to help you today!
After entering your info in and clicking submit,
you will get and email on your next step!
Software Requirements:
Please Note: DXFs.Net Quotation Spreadsheet Software requires Microsoft Excel. Software has been tested on Version 2013 and higher. Software has not been tested on lower versions for compatibility.